The flight from Miami to Madrid was relativly short and smooth. Although I didn't sleep I wasn't very tired during my transfer with the bike from the airport to the hotel in Alcala.
It took me about one and a half hours to assemble my bike while being still in the bagage claim in the airport. At the same place I got rid of the cardboard box and my suitcase which I used to stow my personal belongings.
Luckily I was able to ask people how to get out of the airport by bike because it wasn't an easy task. It took me some climbs before I reached Alcala in early afternoon.
Alcala is the birthplace of Miguel Cervantes (the spanish Shakespear...): a bigger town but with an attractive historical center from the 16th and 17th century.
My hotel is nice located just walking distance to the pedestrian zone.
After more than 1 hr search for a suitable rrstaurant I ended up having dinner at McDonalds in the Plaza de Cervantes...!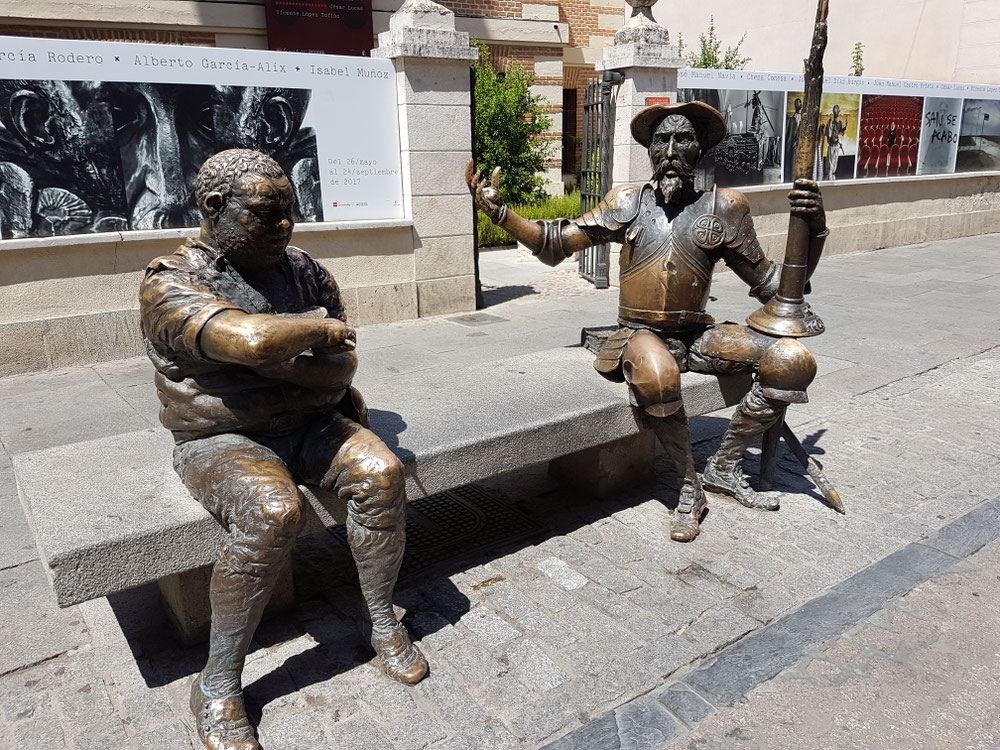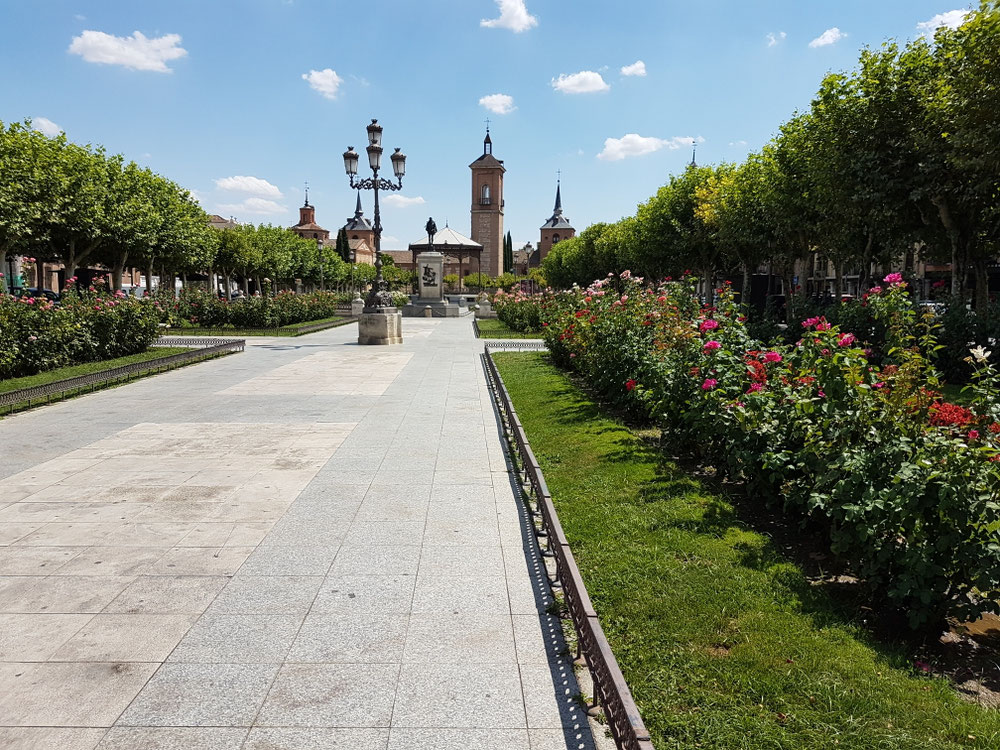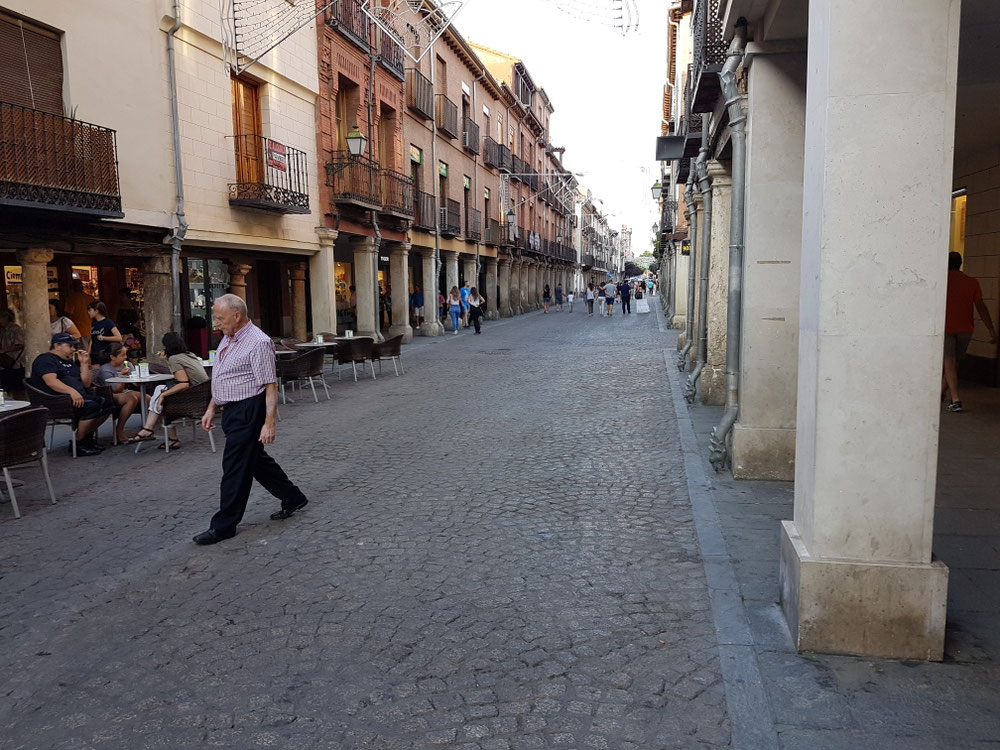 ---
The day began with a fresh headwind which made my first day a hard workout; just after 50 km my legs were screeming for ending the pain. But not only the wind made my life difficult, also the added elevation gain was pretty tough: 1250m in total.
At the beginning the traffic was quite anoying but further on it turned almost off.
The spaniards are well known for their "siesta"-time and especially in the countryside this is more than true!
I made my lunchbreak after 56km in Humanes: a sleepy town in the middle of hilly and dry landscape.
Just after lunch I repaired my first flat tire.
I didn't planned Sigüenza as my destination but I was delightfully surprised of the beauty and historical heritage. Because I arrived after 7pm I had not the chance to discover the center jet, so I'm planning to stay a second night and do some sightseeing tomorrow. Then also tomorrow start the festivities of "San Roque". So I'm expecting a real spanish celebration: bullfight, music, processions and more.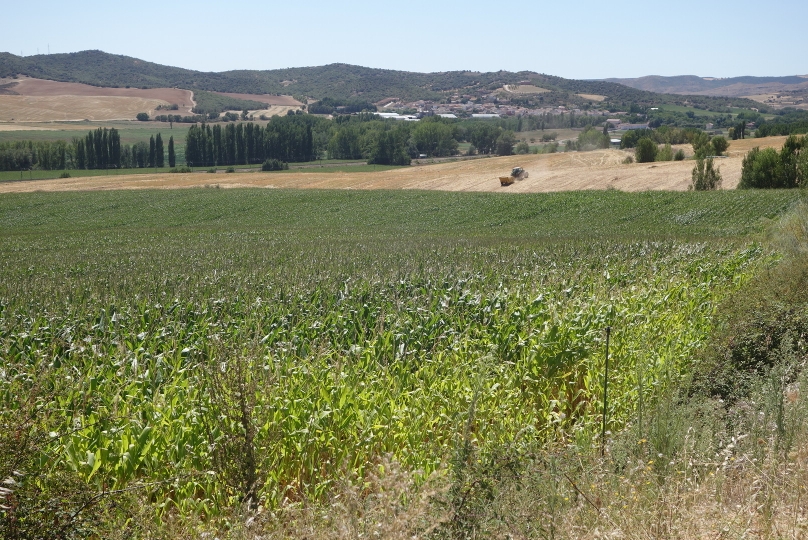 ---
Because I had darkened my room I woke up at 9:30am by the busy streetnoise. Too late for breakfast, I thought, so I finished the leftover "churros" I bought the evening before in the park.
I started the day with a sightseeing walk up and around the castle. It is said that already romans build a lookout in ancient times on the very same place. The medieval castle dates from the 12th century and had changed hands several times since then. During the spanish civil war between 1936 and 1939 it was almost completly destroyed by bombing. During the Franco era it was restored and became a tourist attraction. It also houses a 4 star hotel which can be called as the best in town.
On my way back to the hotel I made a brief visit to the cathedral which was surprisingly big for such a small town.
I found out that my daily routine of having lunch and dinner had to be adjusted to the spanish schedule: lunch is not served before 1:30pm and dinner not before 9:00pm. As a consequence I was the only customer savouring a delicious local speciality in an empty restaurant at 9:30pm! Most people go for dinner after 10pm!
Today was the start of the San Roque festivities with a parade and music all over the place.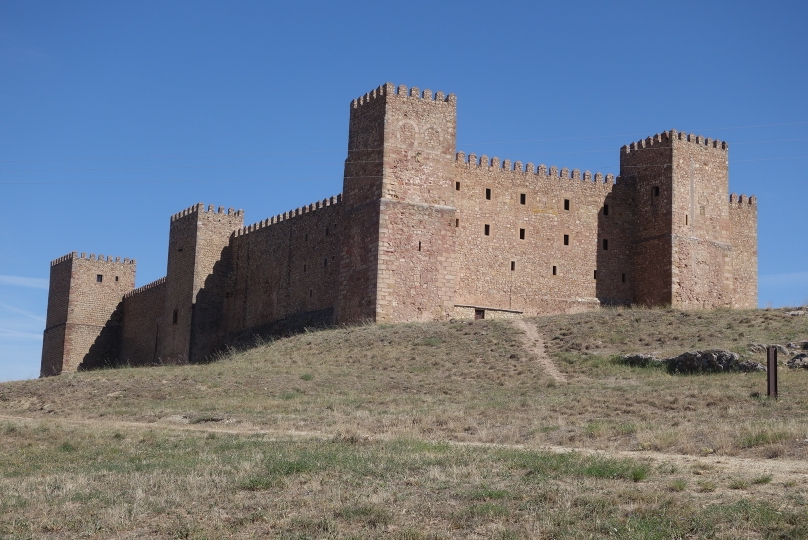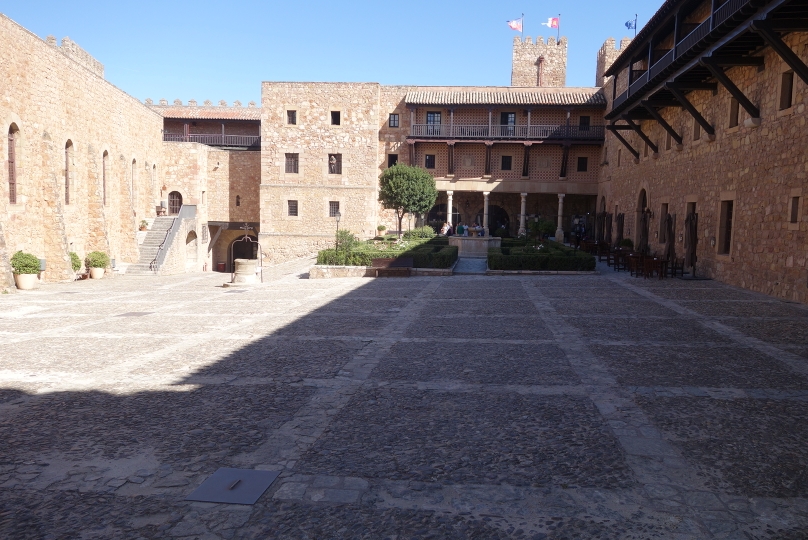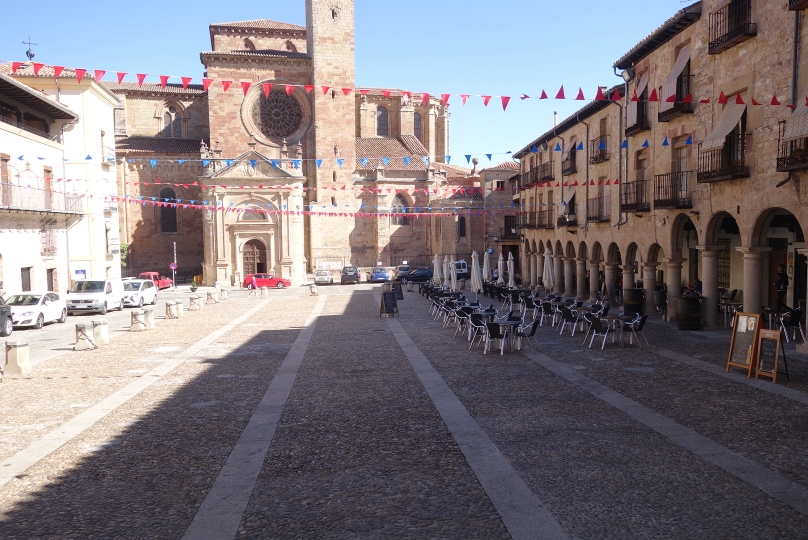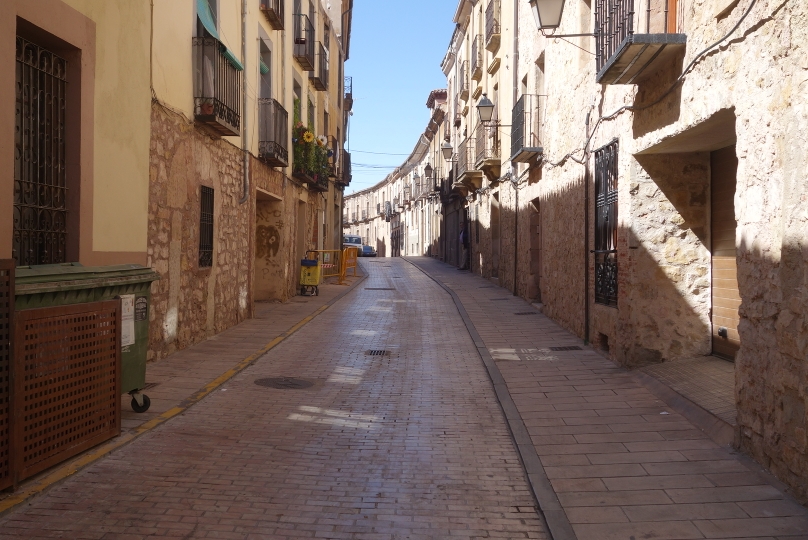 ---
I left Sigüenza at 10:50 on a nice sunny and above all windstill morning. After the one day break my legs felt recovered and pedaling was a delight despite the climb at the very beginning.
There was very little traffic on the roads so I really could enjoy the beautiful landscape and the views to the castles along the route.
I made two stops: in Almazan for lunch and in Gomera for the afternoon "coffee-break".
The last 20km began to challenge my endurance again while the headwind picked up in strenght and I was heading to a small mountain pass with 1198m elevation.
Finally I arrived in Olvega at 18:15 and checked in in the best hotel of this small and indifferent town (some bigger industry employs most of the population).
After my shower I took a walk into the "historical" center of town where I couldn't see much of an architecture beauty.
But in the main "plaza" young people were doing a public performance with local folklore. The singing and dancing reminded me of my days of flamenco-dancing. I'm not a very entusiast in folklore but the spanish songs and dances makes my heart beat faster!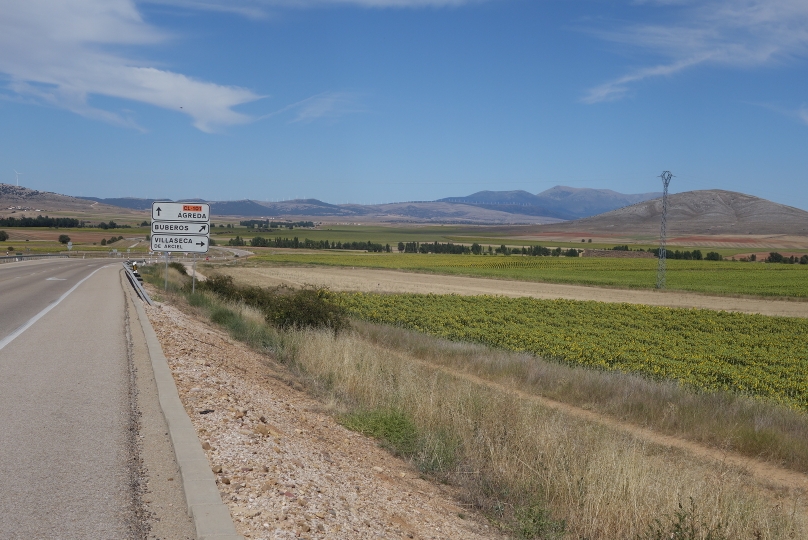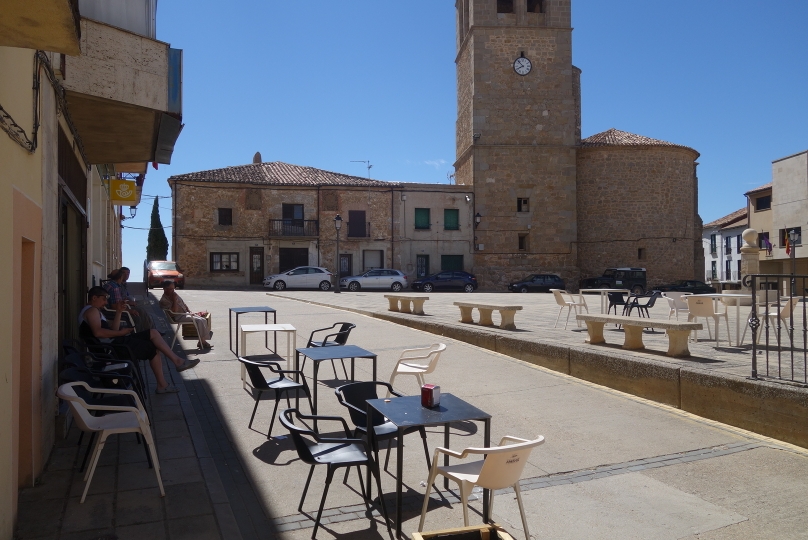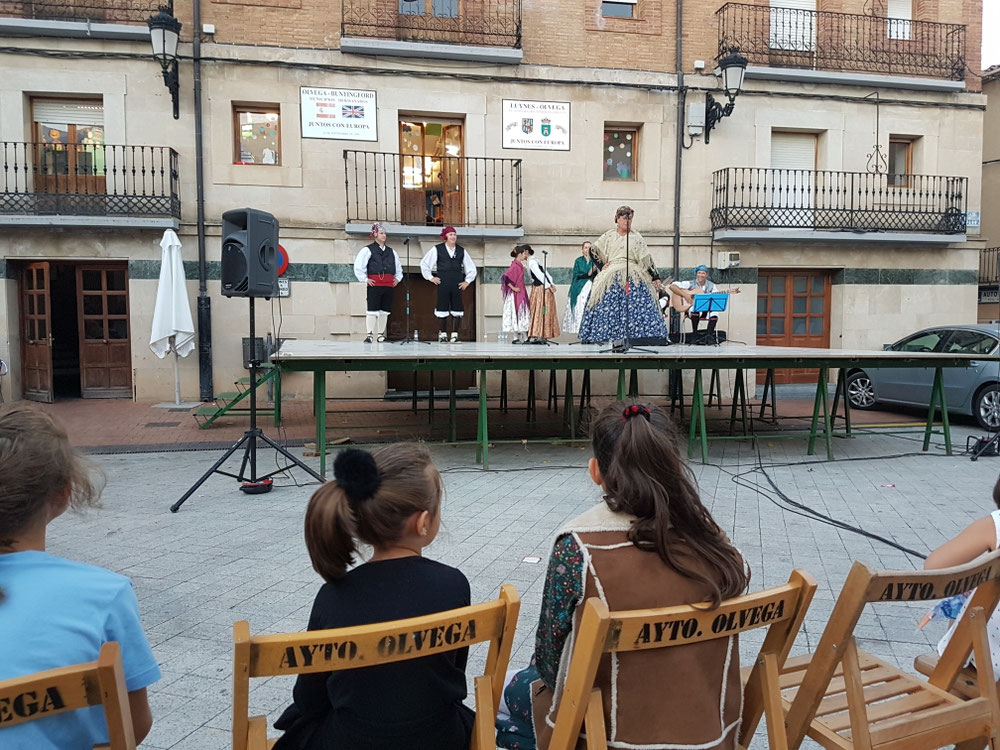 ---
After a decent breakfast buffet the route started with a slight downhill ride. As a result I arrived at my planed lunch stop in Tudela (2nd largest city of Navarra, pop. 35'000) before getting really hungry. After a brief stop for a drink I kept on crossing the river Ebro (one of the largest rivers in Spain) and the desert like region of "Bardenas Reales".
There were not many places to stop so I started to worry about food. Luckily I got some tailwind so that I made it without food to the 50km distance from Tudela to Sádaba in a decent pace. As usual the town was almost dead during siesta time but I still got my baguette with "jamón serrano" and tomato in a bar.
Sádaba is a very attractive medevial town with a nice old castle.
The last stretch to my destination turned into a painful ride because the temperature of the day was at its highest, my legs were already tired and there was a small mountain pass to cross before riding down to "Sos del Rey Católico", my final destination.
Still, I arrived much before sunset so that I still had time to do a sightseeing walk through this well kept and surprisingly beautiful medevial town on a hill with marvelous lookout to the Pyrenees.
My dinner consisted of a navarra-style hamburger with goat cheese and honey-mustard sauce, french fries and mixed salad. And, because presumably this would be my last night in Spain I wanted to grap my last chance for having a "Sangria", my beloved drink in Spain. But for my disgrace I had to order a jar (1 liter) which I almost finished. Of course, the way back to the hotel couldn't be done in a straight line...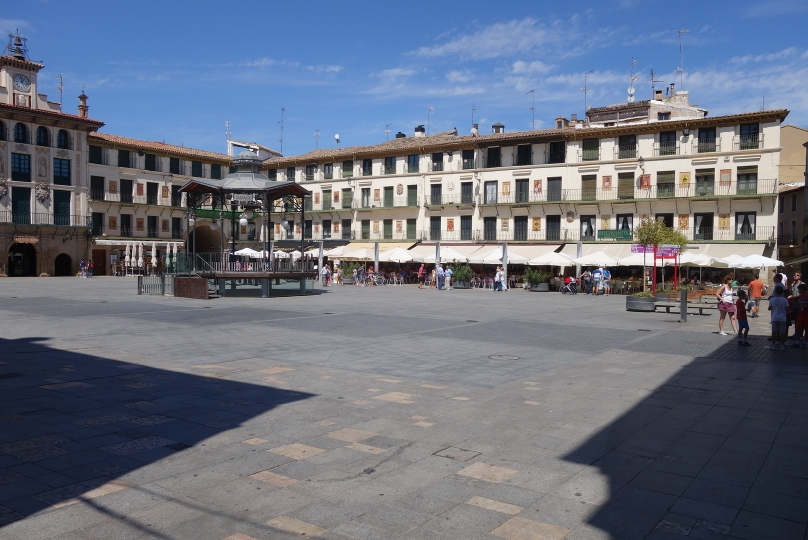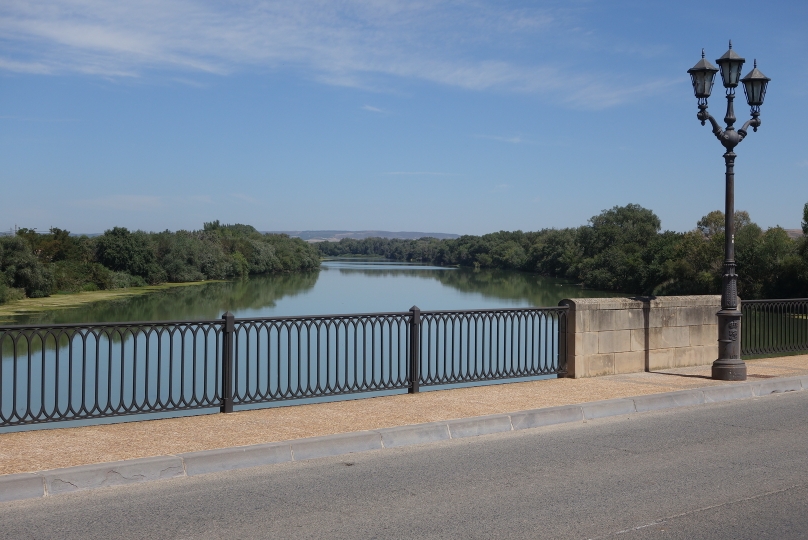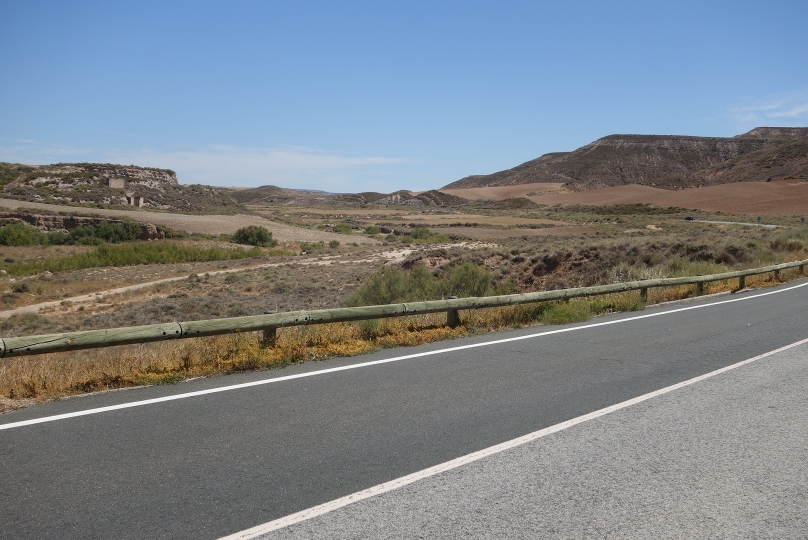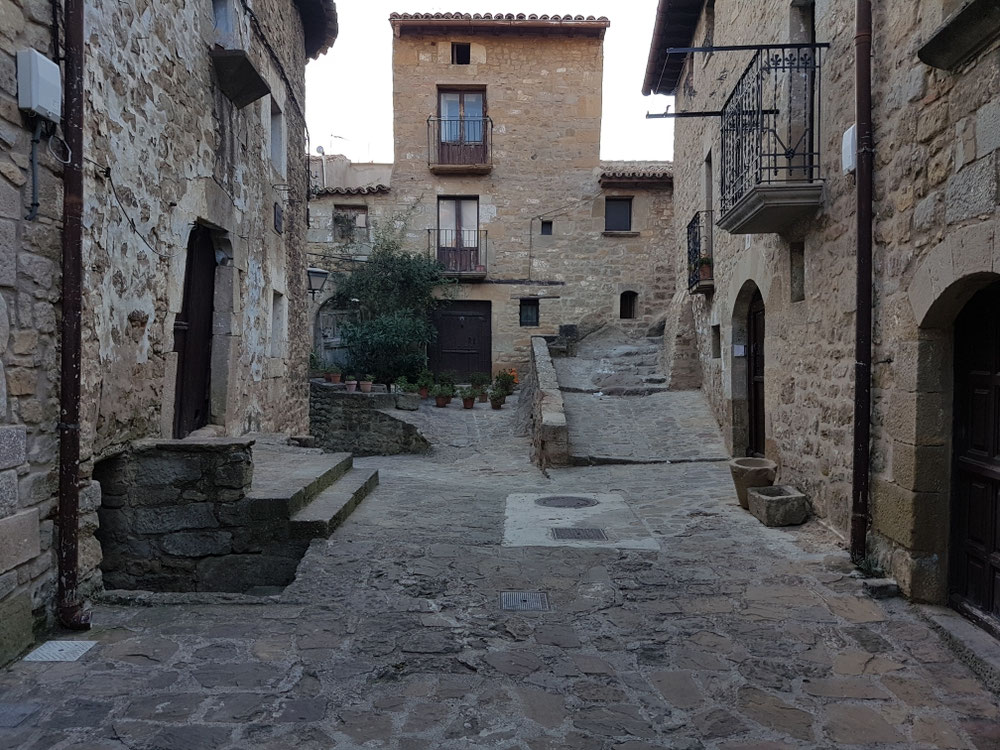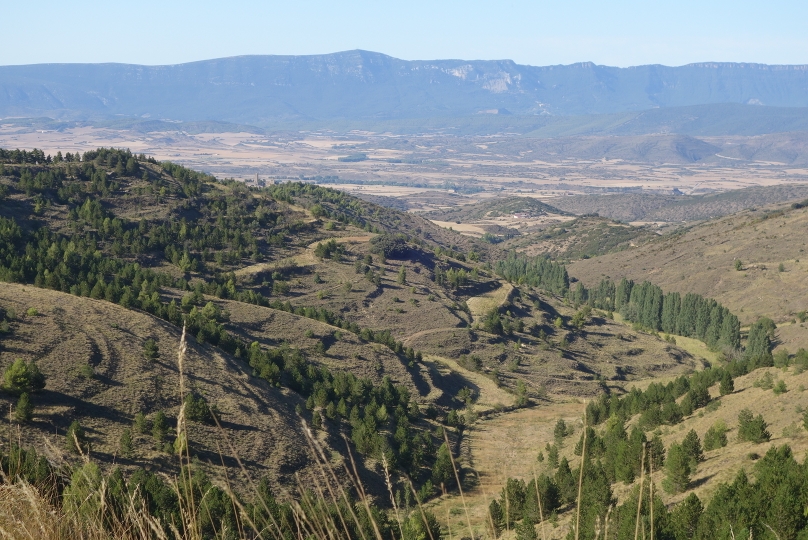 ---
The plan today was to cross the Pyrenees into France. Because I didn't sleep well (...too much Sangria...!?) and still felt tired, I just made it to Ezcároz, about 22km before the border. But the main reason I didn't go further was the more than uncomfortable high temperatures! And Ezcároz is such a nice and clean little town that I couldn't resist under these circumstances to call it a day.
After lunch I made a nap and subsequent I made a small walk through town before having a delicious dinner at the hotel.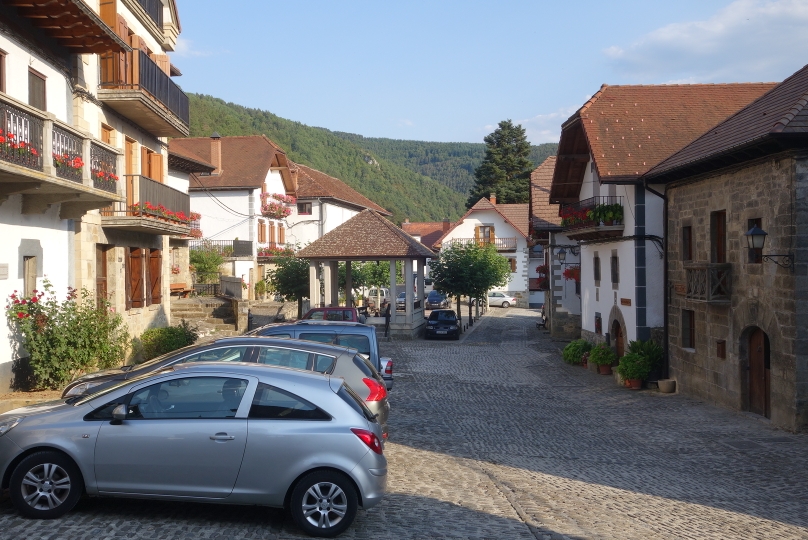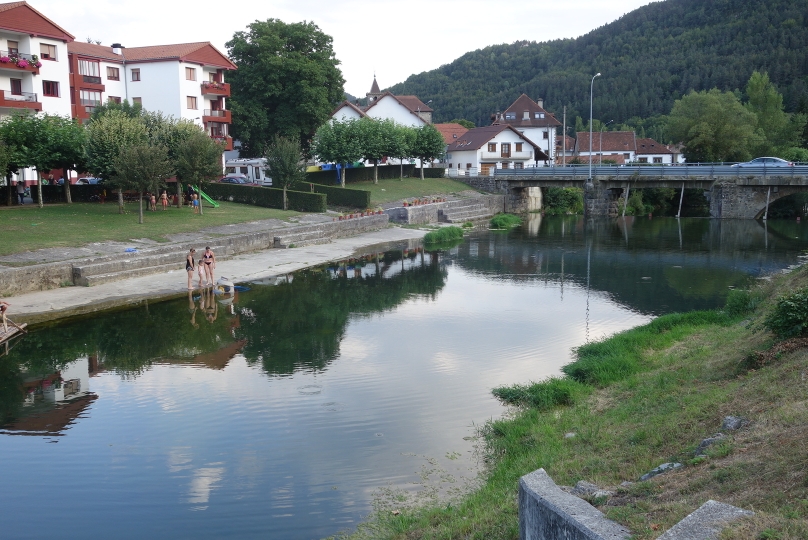 ---
During the night were some rainshowers and the morning didn't look like it's going to be a hot day. Indeed, it was quite chilly at the beginning and even a short rainshower made me wonder if I have to wear my raincoat...
But the rest of the day stayed dry, though overcast. I was thankful for the lower temperatures then the almost 900m climb to the border with France was something I had respect of. My achievement of the long climb to the pass became almost irrelevant on the other side of the mountain then the climb up from France would have been with 10% much more difficult than the 6 - 7% I had to deal with!
Anyway, on the top was no sign (...or wall... 😉) to show you or give a hint that your crossing the border to a different country! ...welcome in the EC! (how wonderful the world could be!!!).
The downhill ride of course was a challenge for my brakes, which survived with no issues.
At 12:30 I decided to make my lunchbreak in a pizzeria in the middle of nowhere. I had a duck (in France people love duck!) that had probably to many airborne hours then it was rather dry and chewy. As a side I had oven dryed potatoes...yummy!
The rest of the stage was a fast ride through rolling hills to Pau.
Today is a catholic holiday so the towns along my ride were deserted and the bigger city of Pau made the impression of a pleasant town.
I found a little hotel in the center which has too small rooms for what I paid for. But this is to be expected in France.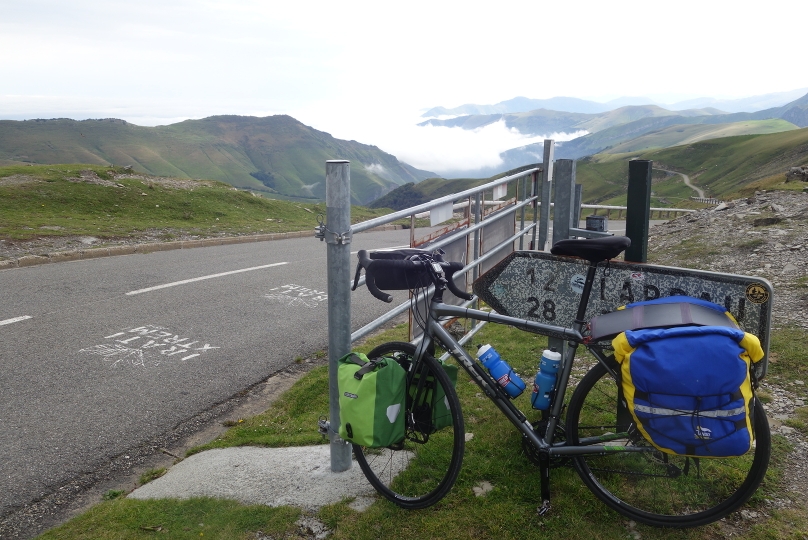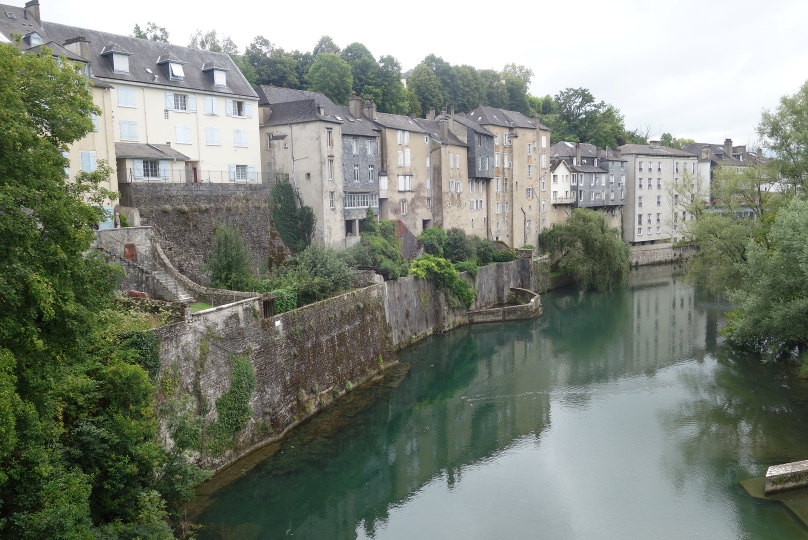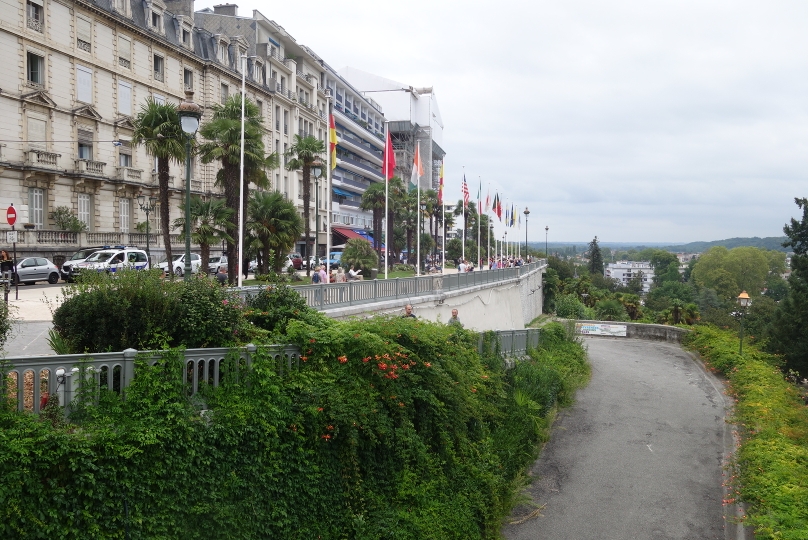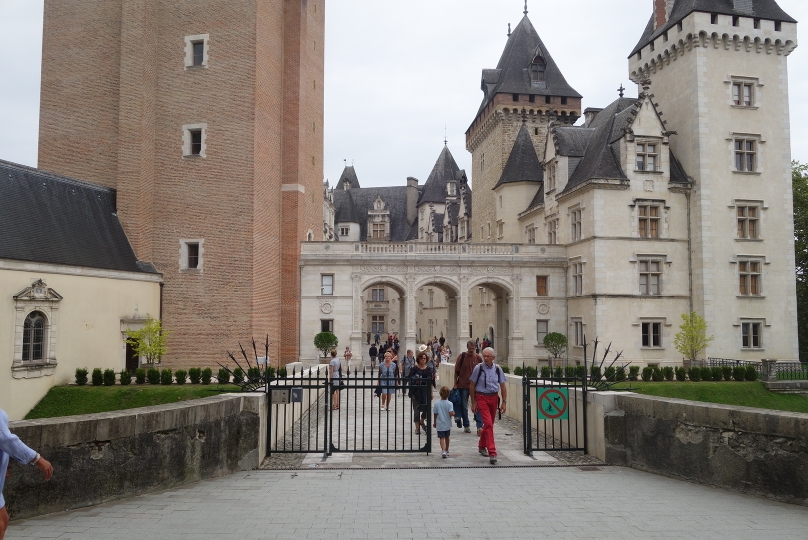 ---
The morning started with rain. Not too much but enough to get soaked...! I started anyway then the temperatures weren't too bad and the weather forecast promised sunshine in the afternoon. Well, fact is that I had to wait until evening to enjoy the sunshine before sunset!
The route was a constant up and down: hard short climbs followed by speedy descents.
Because I didn't wear my raingear, I was completly wet already at lunch, which I took in a small town called Miélan. The best meal in France so far, and the cheapest!
After lunch the same story: hard climbs and fast descents. But I averaged a pretty good pace of aprox. 24km/h.
I arrived early (16:00) in Auch so that I still had enough daylight for a sightseeing walk.
Auch is very touristy and apparently one of the important stops for hikers doing the "camino a Compostela". The impressive cathedral is a must for every visitor! Also it seems to be the native town of D'Artagnan, the one from the Three Musqueteers (not verified...!) because the town uses this personality for tourist-marketing and there is a statue of this hero in a well visited location.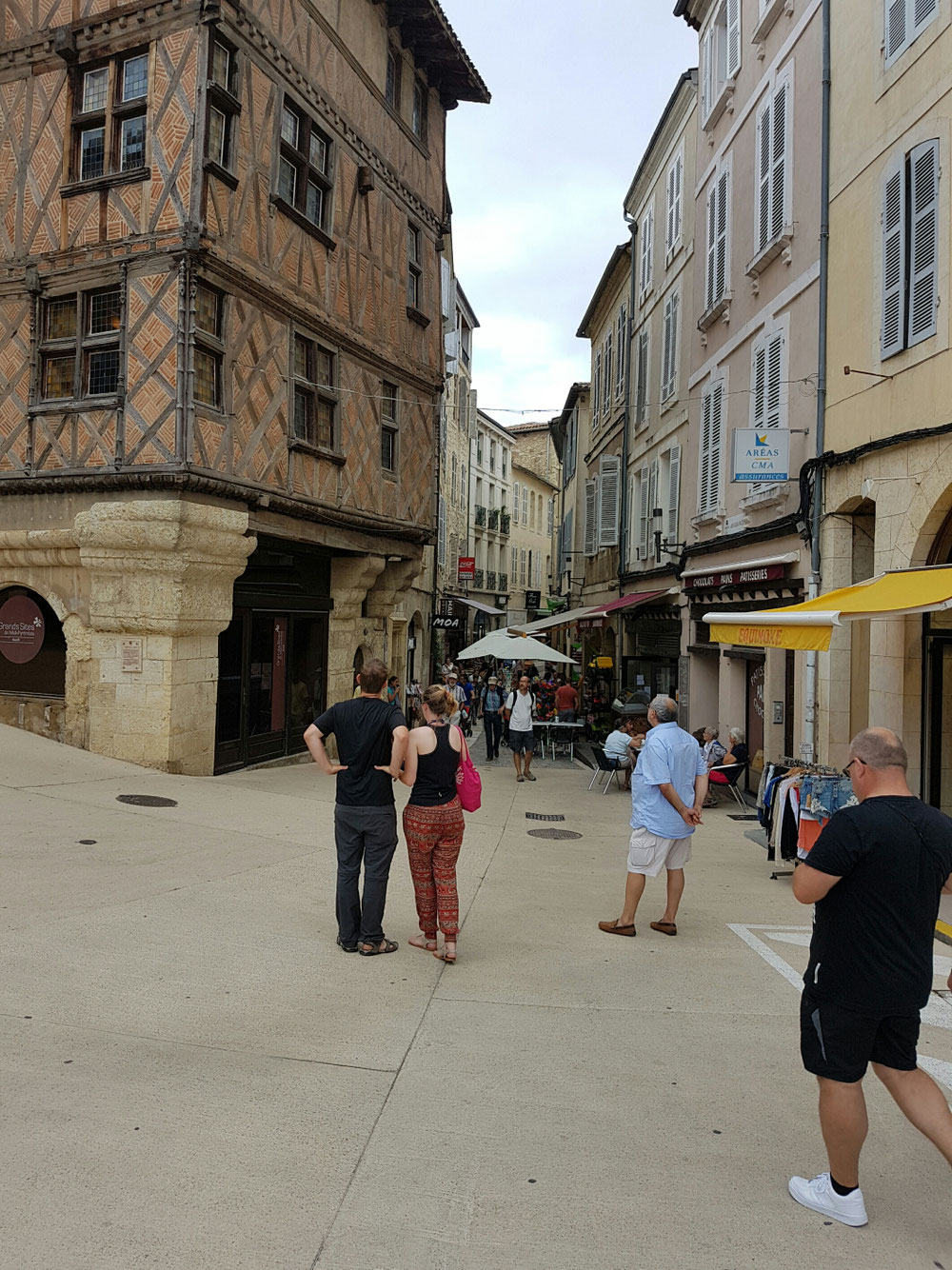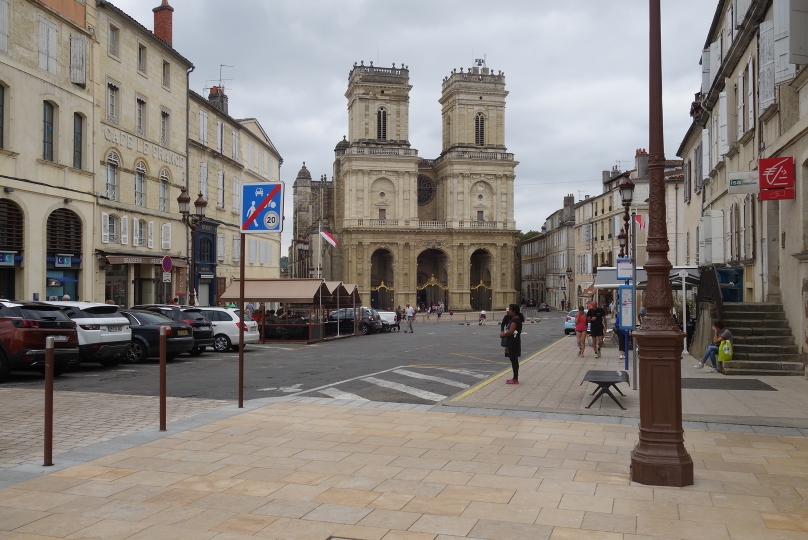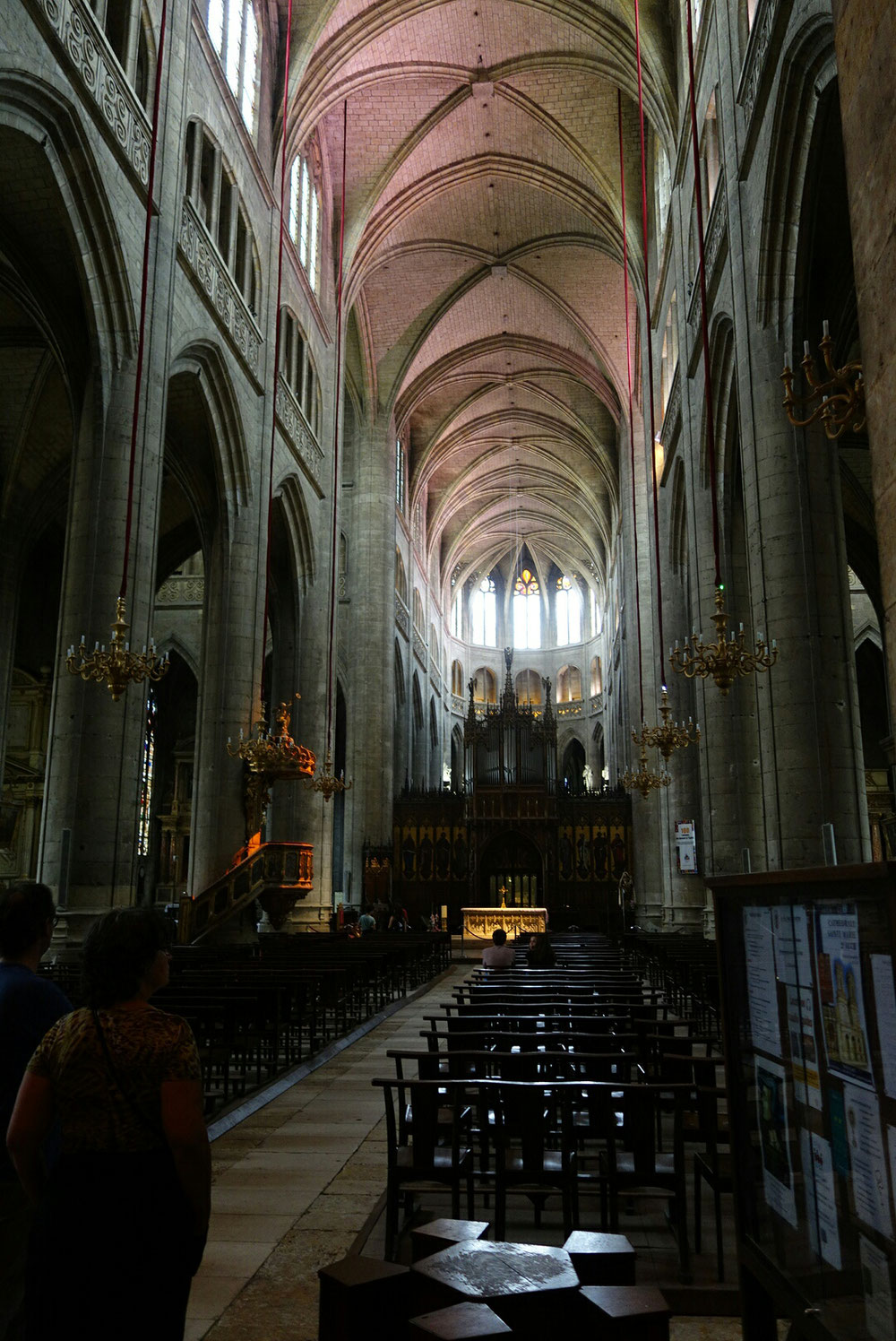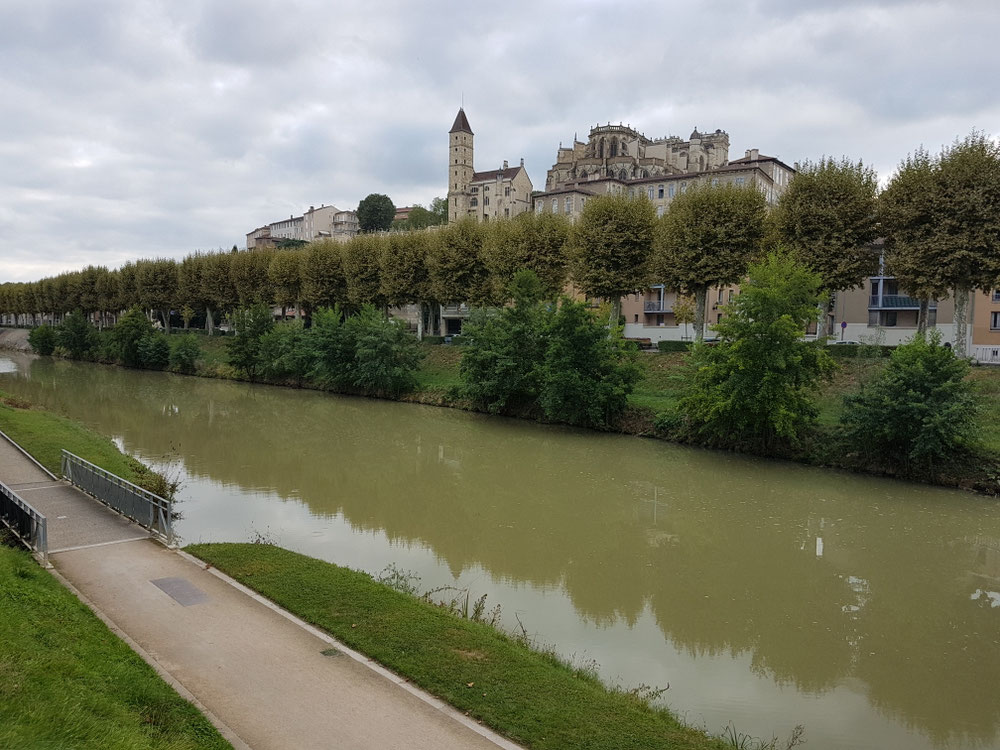 ---
The day started with a lot of sunshine and comfortables temperatures. I bought my breakfast at a local supermarket: fruit juice and a baguette-sandwich.
The plan was to make it till Cahors, about 130km away. I say "was" because my plan got destroyed by an incedent I had after 45km: while I was riding through this beautiful landscape with many farms suddenly I heard a scary bang like a gun shot. It wasn't a hunter who was aiming for cyclers...it was my rear tire that exploded! So I desperatly needed a new tire! But the next town was 20km away. So I tried to fix it as good as I could and after 1 1/2 hour I hit the road again with my provisonally repaired tire hoping to find a bicycle shop in the next town.
Luckily there was no shop in the next town but in the village after. I bought a set of new tires and kept on going after 6pm.
Finally I made another 30km to the medevial town of Lauzerte where a big town festival was taking place with a huge crowd. Nonetheless I found a room in the hotel du Quercy which has an excellent restaurant...but shitty rooms...!
---
The breakfast at the hotel was typically french: orange juice, toasted bread, croissant, butter and marmelade and coffee. Obviously it was enough to last for 88km of cycling until the next food stop!
There are so many roads in France to chose from to go to the desire destination that makes it difficult to decide which one to take. Finally I just rode in the direction of my destination and as expected I lost the route I planned before. But sometimes there is no need of plannig since there are so many interesting towns to see where ever you go...!
One of the highlights of the day was the town of St.-Cirq-Lapopie located on the slope of a hill in the beautiful valley of the river Lot.
The town looks like one in the fairy tales. As a consequence it's very touristy. Still, the views are awesome! ...a must for every France visit!
At km 88 I made my well deserved lunch stop in the town of Cajarc. A salad composed of tomatos, mozzarella, melon and smoked ham; the perfect meal for a warm summer day!
25km later I made a stop for the dessert: homemade icecream in the busy town of Figeac.
The final 22km was an easy ride along a river to Maurs where I called it a day.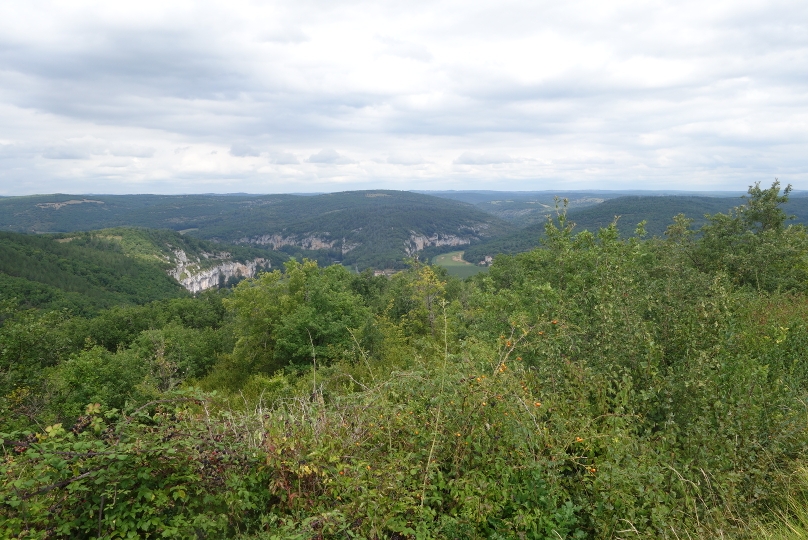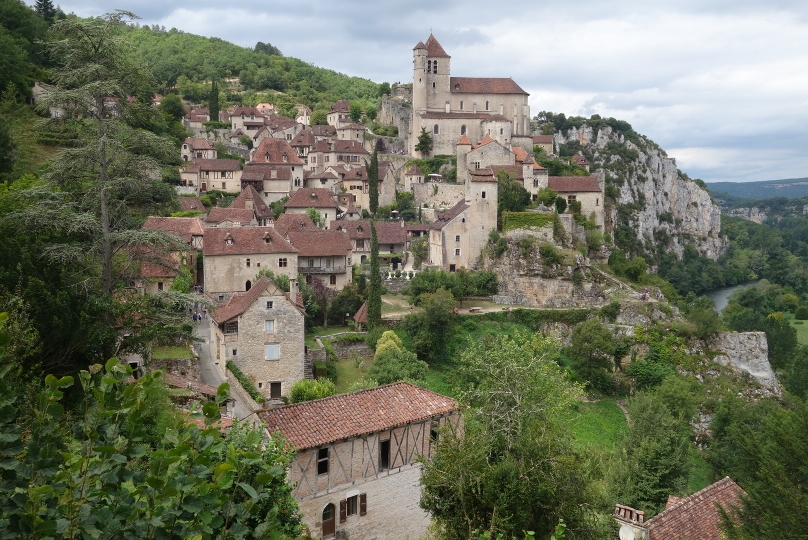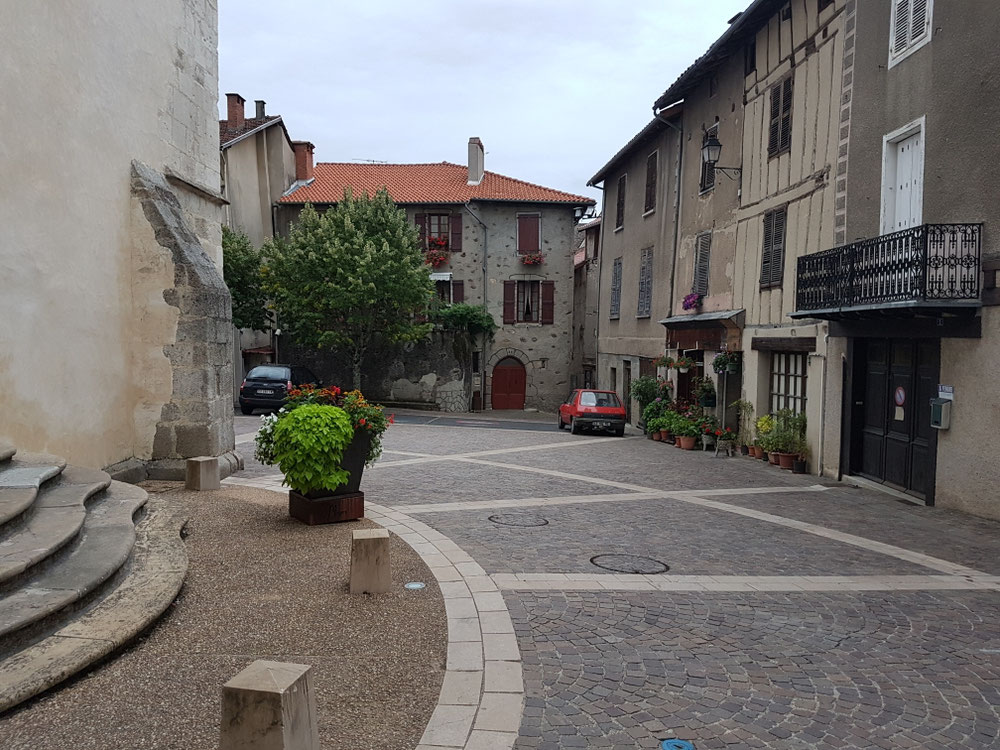 ---
After the usual french breakfast I started into a chilly but sunny morning. But I was happy for the fresh temperatures since the leg started with a climb. Actually it was an up and down (more ups) towards Aurillac. I felt pretty strong but the traffic was kind od anoying: french drivers seem to care little about bicycles...!?
Apparently I pushed too hard in the first 40km so that by arriving at the highest point of the day, the "col de Cère" at 1294m, the energy level of my batteries were in the red! At the very top I prepared some spaghettis, since I finally found a gas canister for my stove the day before so that now I could cook water for all the dehydrated meals I was carrying since Madrid.
The region looked very alpine though the highest mountain is "just" 1855m. There were chairlifts and funicular so that in all it made an impression of a quite big ski resort.
Despite the downhill ride to my destination I still had no juice in my legs and on top of that my butt became irritated so that I was happy to finally arrive in Massiac.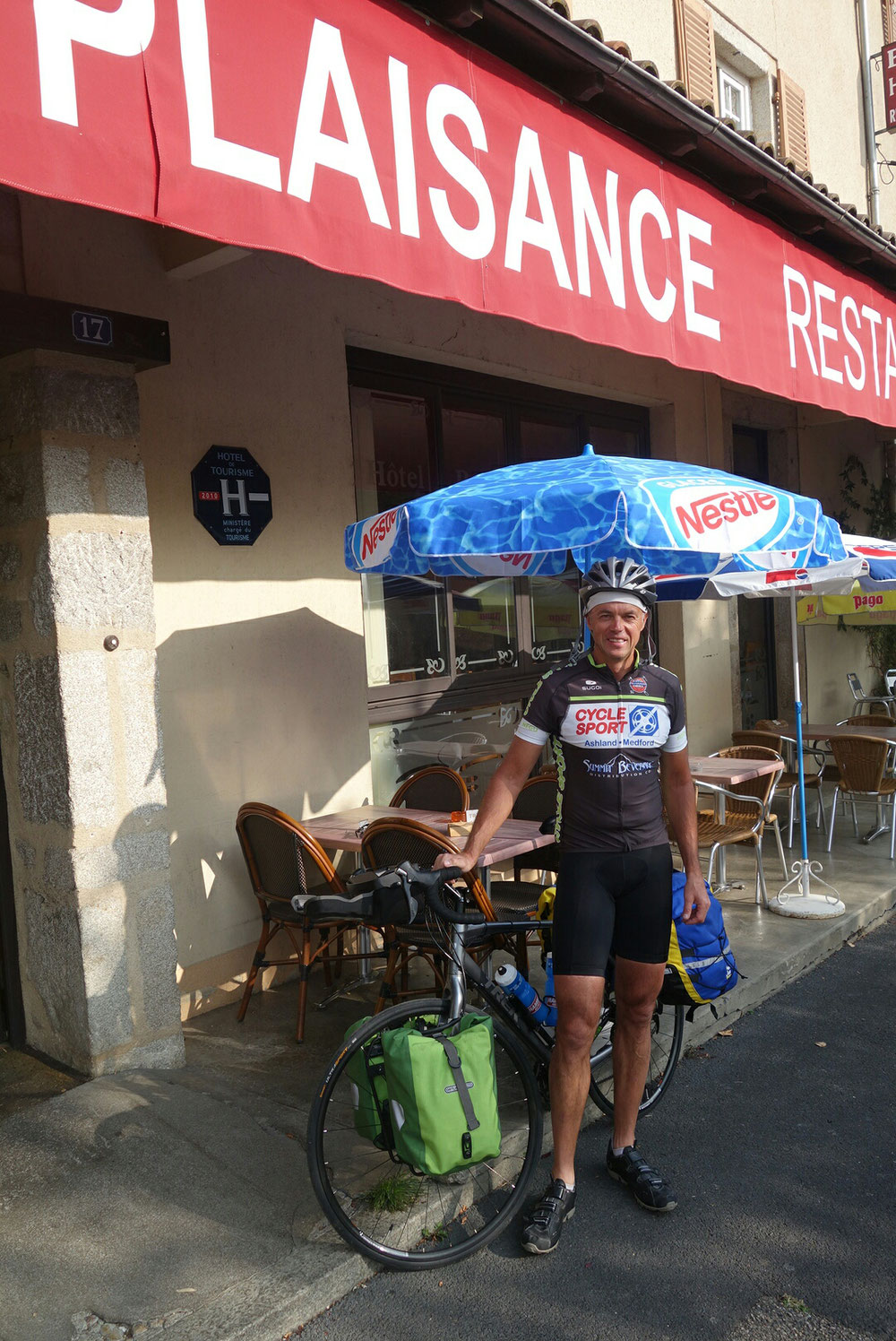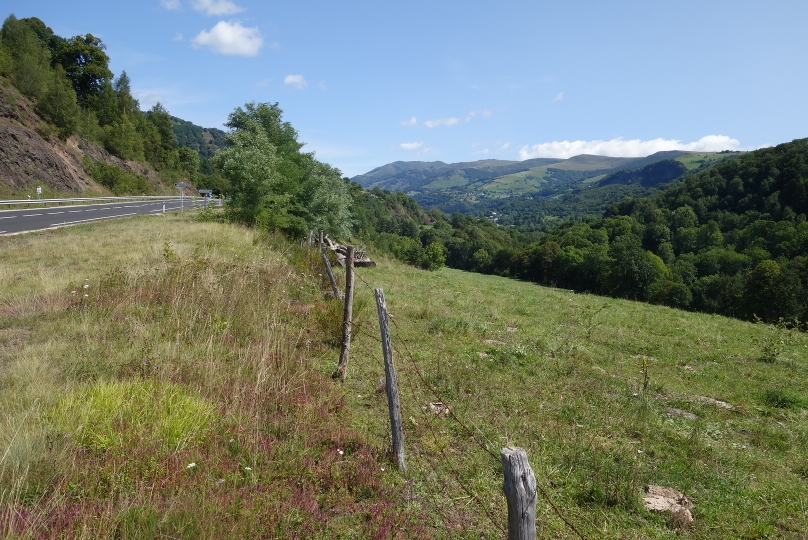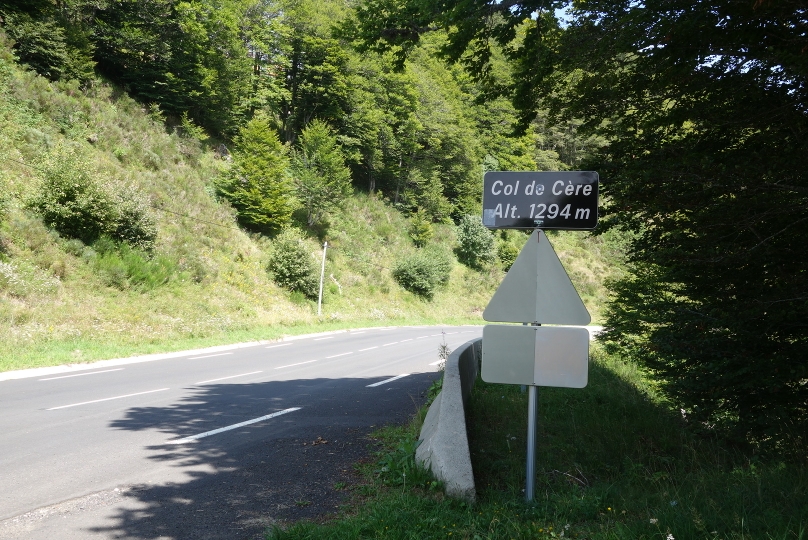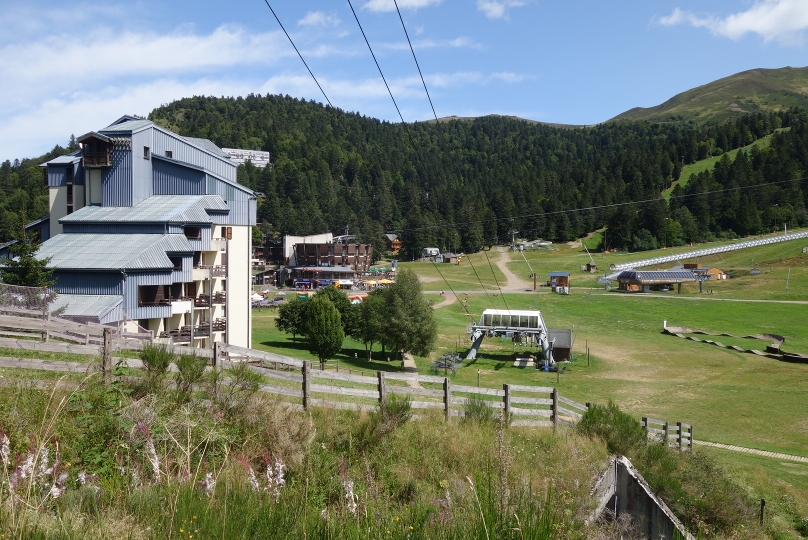 ---
I like to plan each stage of my tour in advance so that on the very same day I can concentrate on the physical challenge and don't have to think much about which road to take. But almost everytime I start with a plan I end up doing something different because I miss a turn-off or my traced route in google-maps gets lost. This happen to me also today: from the initially planned "easy" route I ended up doing a lot of climbing (over 2000m).
The first tyring climb took me to the town "La Chaise de Dieux" (The Chair of God) at 1020m. Because of sunday there were a lot of local tourists doing a day trip.
At this elevation the wind almost gave me a hint of autumn.
During the fast downhill ride I was relieved knowing that I didn't have to do the climb again... But hitting the bottom I felt like a fool because I had to start a new climb on the other side of the valley that brought me up even higher!
By then I was a little worried because I had just one sandwich for lunch and didn't know how strenuous it'll get in front of me.
However the long story short I enjoyed the ride through the beautiful hills of the Massive Centrale which reminded me of the Black Forest in Germany.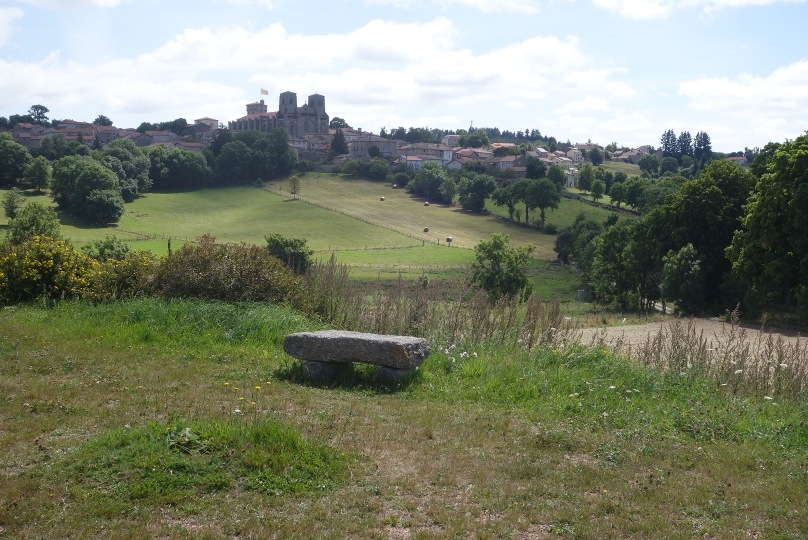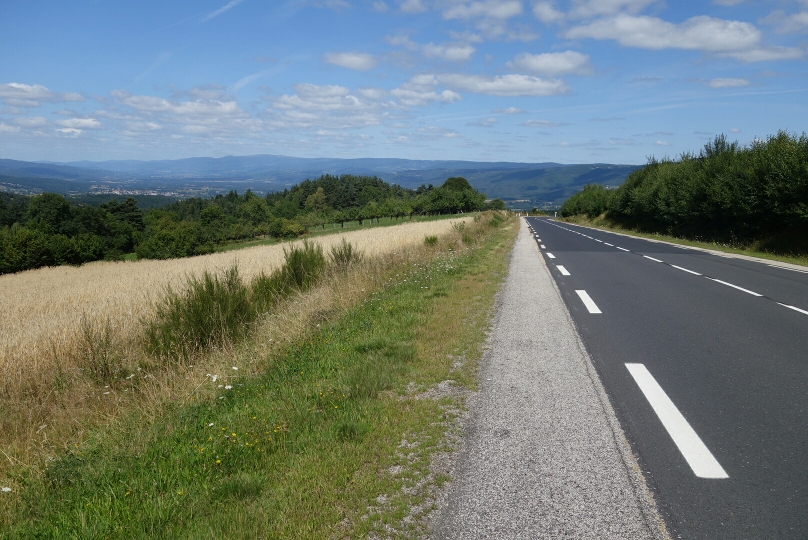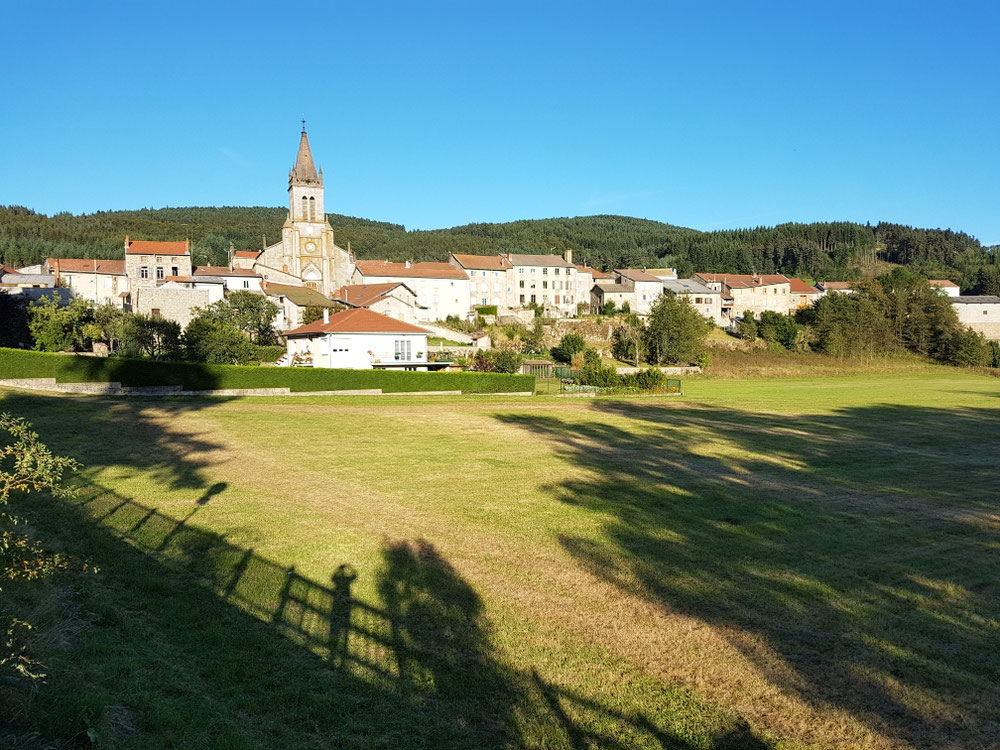 ---
It was a fresh but sunny morning. Right at the beginning a short climb to the last obstacle in the Massive Centrale: col de la Croix del'homme mort 1160m. It followed a long downhill ride with very little traffic and beautiful views of the valley below.
After 25km I passed the town of Montbrison at the bottom at 200m and from then on it was almost flat with some minor climbs inbetween.
My leg muscles seemed to be not fully recovered from the day before so that I was glad that it was relativly easy and short stage.
I arrived at aprox. 15:00 in Glèizé (close to Villefranche s/Sâone) where my cousin Emil and his wife Benedicte received me with a hearty hug. I was really happy that the visit to my favorite cousin worked out on my trip back home.
After a wonderful evening together and a delicious barbeque I went to bed falling asleep instantanously.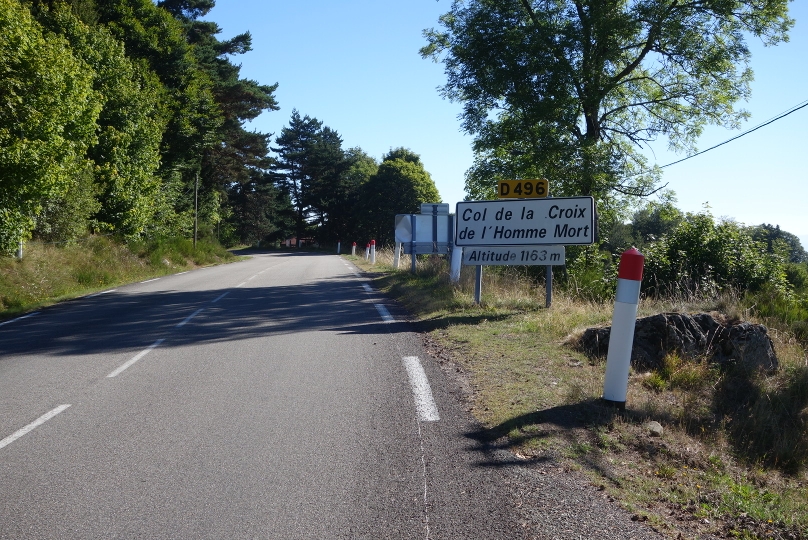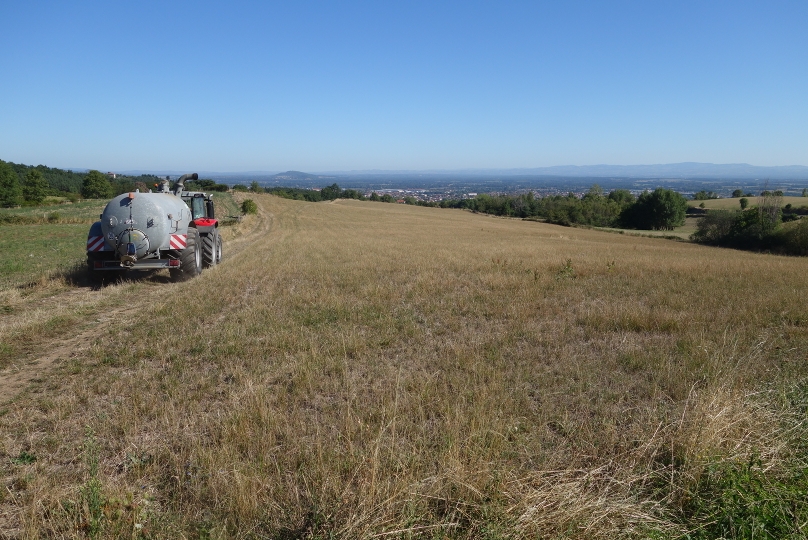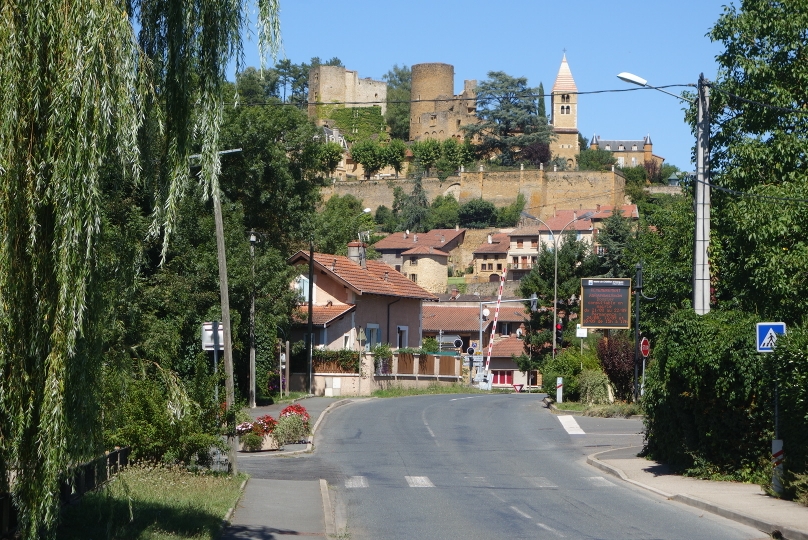 ---
After a short night sleep we took the breakfast together and at 9:30 we wished farewell.
The first 45km was an almost straight road to Mâcon with lots of traffic. But the road was wide enough for all...
After Mâcon I took some back country roads that partially also had more than sufficient traffic.
In Pont-de-Vaux I stopped for lunch; in a parking lot of a supermarket I made myself a dehydrated meal with my stove.
After lunch I really felt very tyred and my legs were refusing to get back to work so that after just another 15km I decided to make another break. After that it went fairly well.
At the end of the stage I got some help from a tractor which I was following during several miles in his draft at 35km/h.
At my destination in Lons-de-Saunier, after having a hamburger at McDonalds and riding around town looking for accommodation, I finally checked in at a hotel almost in front of the train station. For dinner I went to McDonalds again (it was too convinient because just some steps away from the hotel)...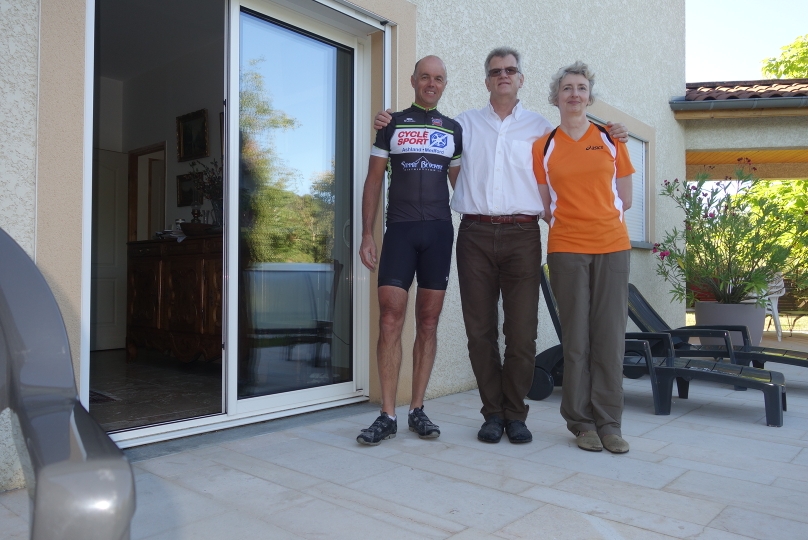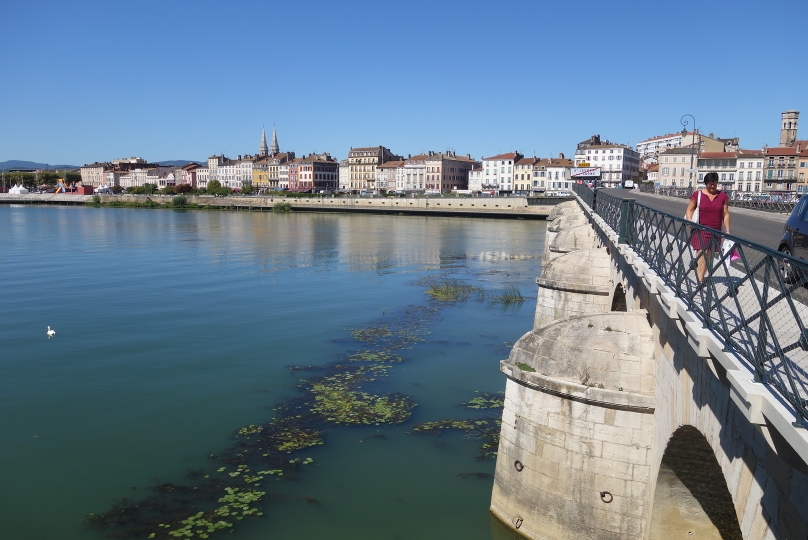 ---
Today on my program was the crossing of the "Jura"-mountainrange. I had some respect for the expected climbs. I knew that the elevation is not going to be high but I didn't know how steep. Lons-le-Saunier is located right at the foot of the range, so first thing in the morning was a climb. And what a climb: because I listened to my app I ran into very steep grades and on top of that into unpaved forest roads!
Long story short I survived as well as my bicycle. But it took a lot of effort and sweat so that I was already worrying if I could make it at least to Pontarlier which was just 80km away.
But for my relief there were no further difficulties ahead and the westerly wind were giving me a nice push from behind for the rest of the day.
In Pontarlier I made my late lunch break at a supermarket before I crossed the border 12km after and "sailed" through the Val des Travers towards Neuchatel.
With the last bit of energy I made it to the final destination recording 155km, the largest leg of my entire trip!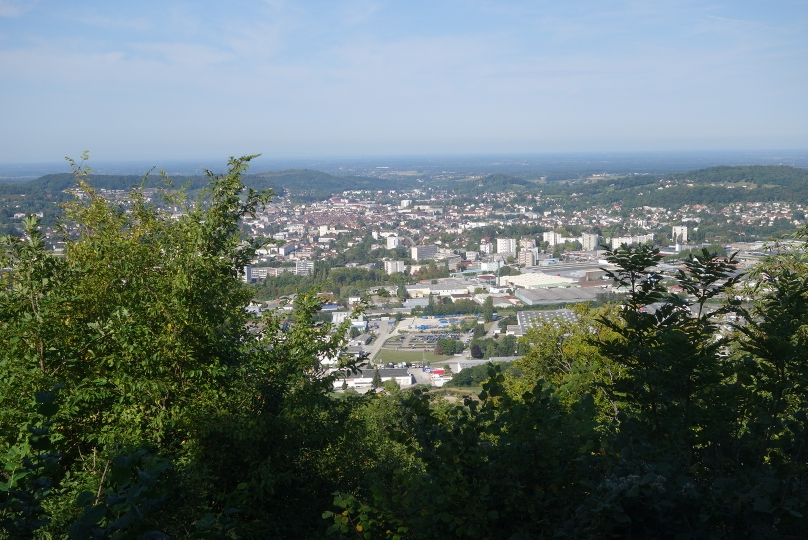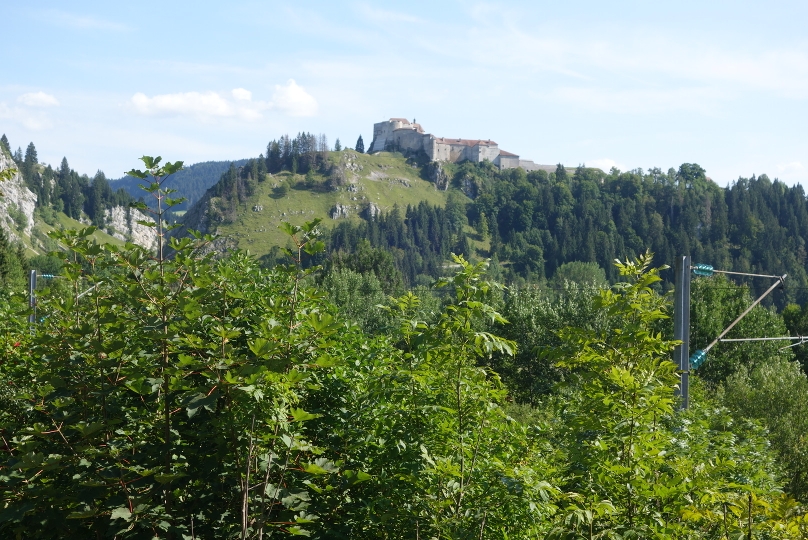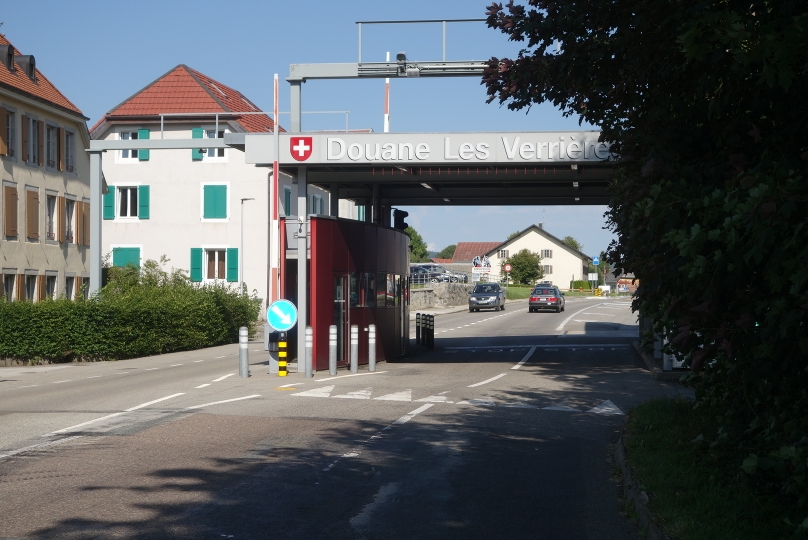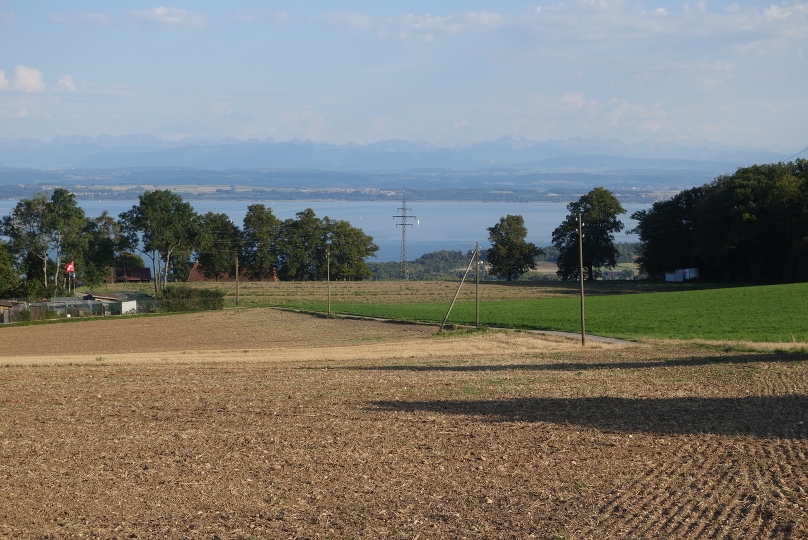 ---
Another beautiful day started today with risk of thunderstorms in the afternoon. My legs begging for a rest day: my muscles getting harder and harder...
Todays ride went to mostly flat country with some rolling hills. After lunch I had to do a climb up to 800m before a fast downhill ride towards Sursee during which I was chased by a thunderstorm. Even pedaling at over 50km/h the thunderstorm got me and I had to do an hour break under a shelter.
In the late afternoon I had to do a short but painful climb from Sursee to Beromünster where I met my friend Sergio.
After checking in at the Glashaus hotel, a 14 story four star hotel in Menziken, I went out for dinner with Sergio.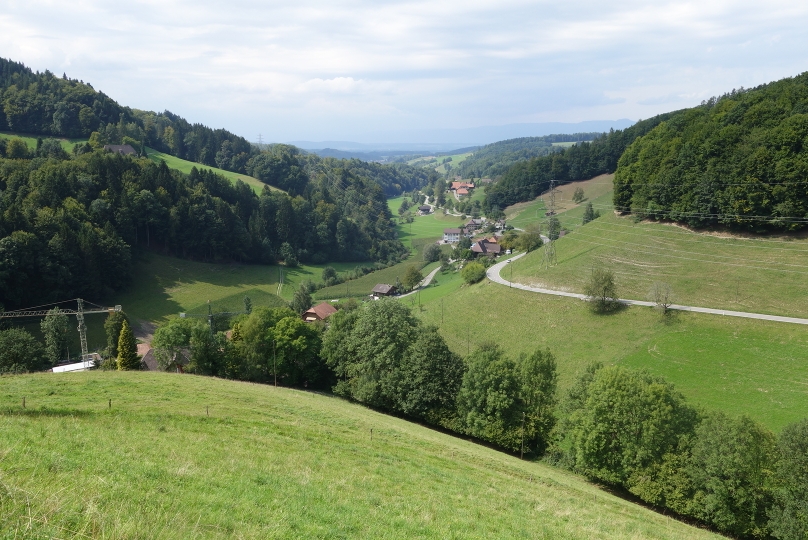 ---
Today was the short ride back home on the program. Because of the accumulated fatigue of the whole trip I had some issues with every minor grade on the route. But finally I made it back home at 14:00 where I recieved a warm welcome from my sister and my mom.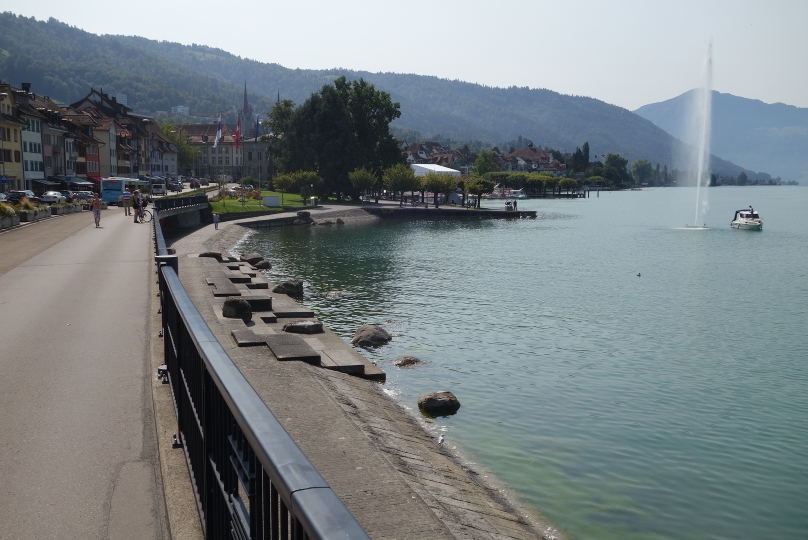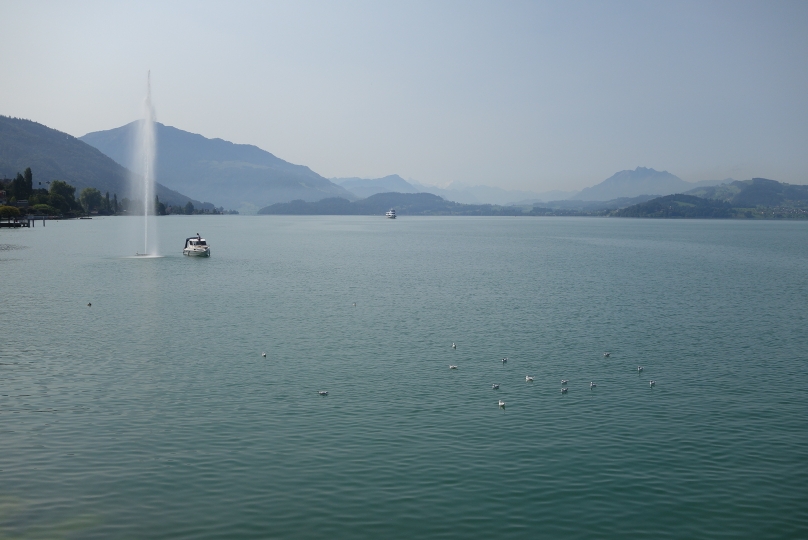 ---
---